The introduction of Corporate Social Responsibility (CSR) provision in the new Companies Act 2013 is a welcome step and all companies which satisfy the CSR criteria will have to undertake CSR activities under the new CSR regime during current financial year. This step will boost much required social projects with some professional management of the private sector.
Ministry of Corporate Affairs has recently notified Section 135 and Schedule VII of the Companies Act as well as the provisions of the Company's (Corporate Social Responsibility Policy) Rules, 2014 (CRS Rules) which has laid down the framework and modalities of carrying out CSR activities.


Company's Philosophy
We define Corporate Social Responsibility as company's verifiable commitment to operating in an economically, socially and environmentally sustainable manner that is transparent and increasingly satisfying to its stakeholders. Through its corporate values, company constantly endeavor's to actively contribute to the social and economic development of the communities in which it operates.
The Company has always believed in giving back to the society and recognized its role and responsibility as a corporate citizen. To further the Company's CSR philosophy, a formal policy on CSR is being formulated to align its practices with requirements of Companies Act, 2013 and rules made thereunder.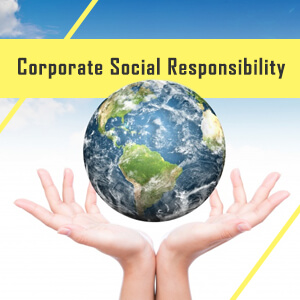 Objective & Scope
The main objective of CSR Policy is to lay down guidelines for the Company to make CSR as one of the key focus areas and to make a positive contribution to society through high impact, sustainable programs.
The policy would pertain to all activities undertaken by the company towards fulfilling its corporate social responsibility objectives. The policy would also ensure compliance with section 135 of the Companies Act, 2013 and would include the activities as covered under Schedule VII to the Act and the Companies (Corporate Social Responsibility Policy) Rules, 2014 and as amended from time to time.
CSR Projects, Programs and Activities
Company may undertake various CSR projects, programs and activities from time to time. Company may also contribute towards any existing or ongoing CSR projects, programs and activities. Such projects, programs and activities will be undertaken keeping in mind the CSR philosophy of the Company and in alignment with the permissible activities under the Companies Act, 2013 and rules framed under (as amended from time to time). It shall be at the discretion of the Company to undertake, modify, implement and cancel CSR projects, programs and activities from time to time as it deems fit.
Without prejudice to the generality of the aforesaid, Company may from time to time undertake any project, program and activity on one or more of the following sectors/areas:
Healthcare
Sanitation
Drinking Water
Education
Rural Development
Vocational Skills
Entrepreneurship Skills
Employment Opportunities
Facilities for Senior Citizens
Medical Aid
Old Aged Homes
Women Hostels
Special Employment Opportunities for Women
Environment Protection
Animal Welfare
Conservation of Natural Resources
Protection of National Heritage
Promoting and development of Art and Culture
Public Libraries
Promotion and development of traditional arts and handicrafts
Measures for armed forces veterans, war widows and their dependents
Promotion and development of rural sports and National Games
Contribution to funds set by the Central or State Government for development and welfare of Scheduled Castes, Scheduled Tribes and minorities
Rural Development Projects
Contribution to technology incubators located within academic institutions
Go Green Initiatives
Human Rights
Any other projects, programs and activities falling within the permissible activities prescribed under Companies Act, 2013, rules made thereunder, any circular/ notification/ guidelines /clarification issued thereunder.

Publication of the CSR Policy
As per the CSR Rules, the contents of the CSR Policy shall be included in the Directors' Report and the same shall be displayed on the Company's website, if any.